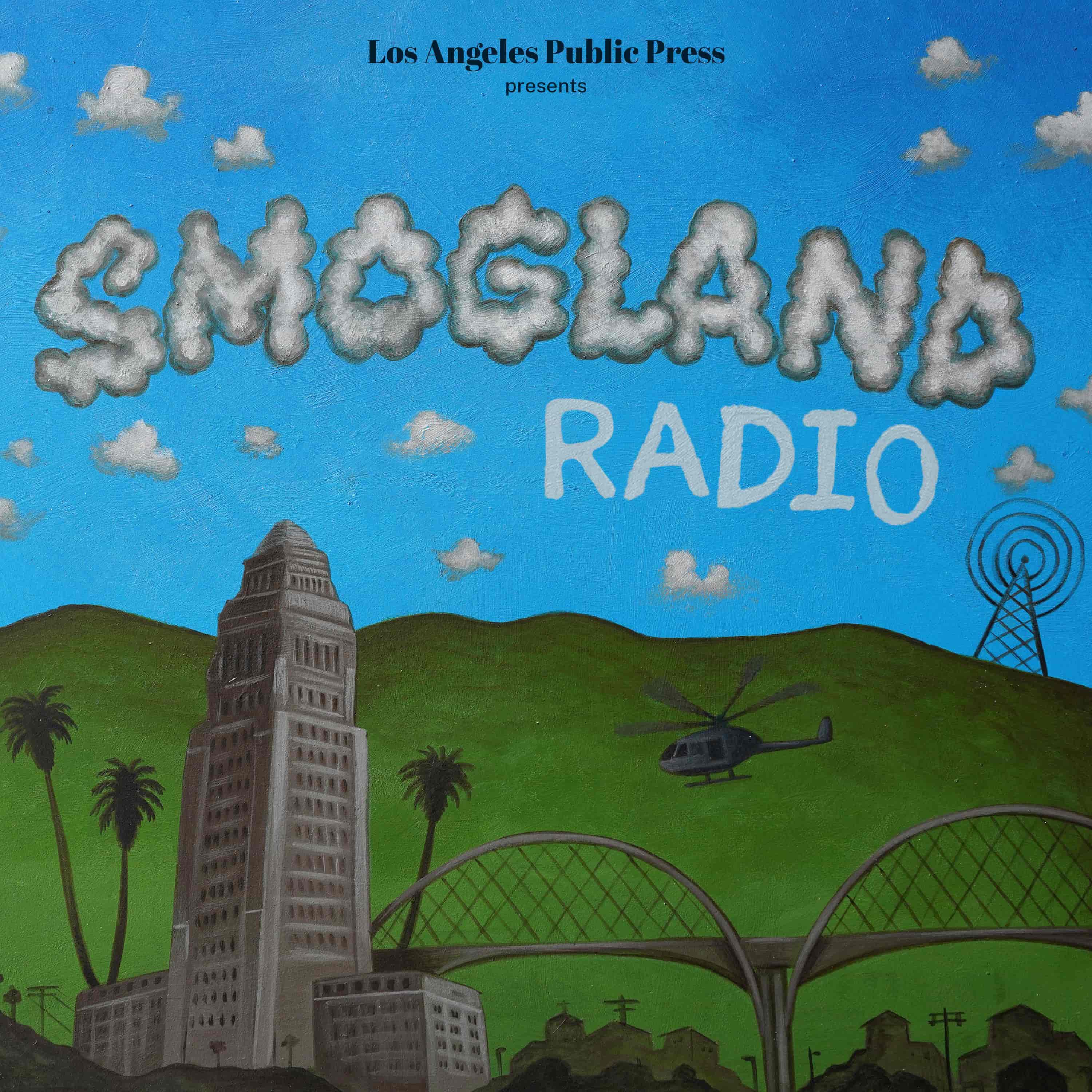 Smogland Radio
Smogland Radio is a news podcast by and for LA from Los Angeles Public Press. Twice a month, we'll have reporting that holds powerful people accountable, advice on how to thrive in Los Angeles, and in-depth stories about the issues that affect all of us. We're hard on this city, because we want it to be better. We may be one of the smoggiest counties in the country, but we don't have to be.
There's no place like home: The story of the Jasmine Avenue encampment
This week, we're spending the entire show with the residents of one encampment on the edge of Culver City. When they learned they were facing a sweep designed to displace them, the residents of the encampment decided to fight to stay there. They'd formed a community on Jasmine Avenue. And they felt safe on that block, right next to a large Catholic church and school. But then they found out who was leading the campaign to displace them.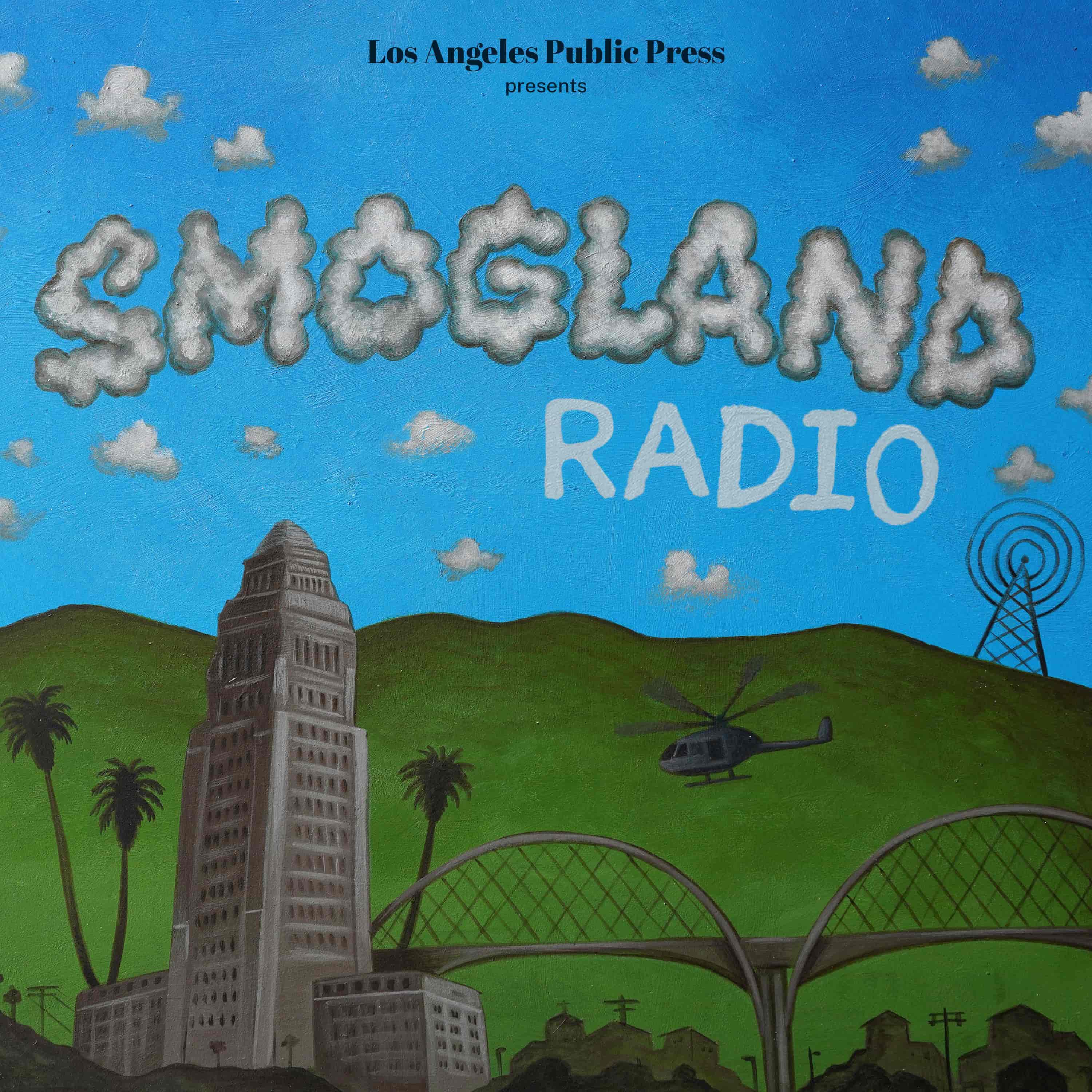 This week, we're spending the entire show with the residents of one encampment on the edge of Culver City. When they learned they were facing a sweep designed to displace them, the residents of the encampment decided to fight to stay there. They'd formed a community on Jasmine Avenue. And they felt safe on that block, right next to a large Catholic church and school. But then they found out who was leading the campaign to displace them.
---
Transcript
Nancy: You're listening to Smogland Radio.
Steph Brown: Okay, as you can hear, they're opening up the protest with, uh, prayer and some song. We see probably about, um, 15, 20 protesters here at this point.
Nancy: Broadcasting from encampments, churches, and Palestinian solidarity actions all around the city, calling for a ceasefire, and an end to the Israeli apartheid state.
Activists: When I say cease fire, you say, now cease Fire. Now cease fire. Now. Not in our name. Not in our name. Not in our name.
Nancy: I'm your host, Nancy Meza.
Welcome to a new episode of Smogland Radio, a production of LA Public Press. Each episode, we're gonna be going on a little journey across LA together.
Remember that this is your news podcast about the city we all hate to love and loooooove to hate.
But first… Smogland Radio is made possible by our amaaazing donors and supporters. If you haven't done so yet, you can become a supporter at lapublicpress.org/donate.
By the way, we'll be talking all about Jewish and Palestinian organizers mobilizing in LA… in our next episode. And if you want to know more about the protest organized by Jewish activists that you heard at the top of the show, you can find it on our website, at lapublicpress.org.
---
Today on the show… we're talking sweeps.
That's when cops, sanitation workers, and sometimes outreach workers swarm an encampment, often at dawn.
Dozens of sweeps happen at encampments all over Los Angeles every day.
If you're housed, you might think an encampment sweep is like a cleaning service. the city comes, collects peoples' trash, and does a kind of spot clean around the encampment.
You might even think that, if encampment residents are forced to move, they're always offered permanent housing. Or at least… support getting into permanent housing.
But you'd be wrong.
Here's how sweeps usually go. Cops and sanitation workers come, throw away anything you don't have time to move, and then often tell you you're not allowed to come back to that spot. Even if they don't have housing to offer you, or a permanent way for you to get off the street.
Sometimes, encampment residents will get arrested during a sweep. Many people describe sweeps as violent and traumatic.
A coordinated process of forced removal by city officials.
And today, we're spending the entire show with one community that had managed to stick together on the streets for years… until they were finally swept and displaced.
Here's LA Public Press city reporter Elizabeth Chou, who's been following that community for the past six months.
---
Liz: I wanna tell you about Kaz and BJ. They're two friends who live next to a church in Los Angeles.
This isn't the first place they've lived together.
They've been pushed from spot to spot in Palms, a neighborhood in west LA. But each time, they've stuck together. Kaz lives in an RV, and BJ has a tent.
Kaz: Me and him …
BJ: We've been ride or die.
Kaz: We've been doing this from the beginning.
Liz: At first, they stayed near a Smart and Final, and then they were next to a car wash. At one point, they were camped out in an old dental office. Which they called Ground Zero.
They then stayed across the street from the offices of a homeless services provider.
They got kicked out of there, too.
BJ: And then we had a major eviction there, … Metro decided to put signs up of no tress … no trespassing, and what not, so we couldn't even come back. And that's how we ended up back on the block, and we've been battling ever since.
Liz: Finally, after getting pushed all around Palms, Kaz and BJ found themselves on Jasmine Ave, two years ago, during the pandemic.
Kaz and BJ's story of getting displaced, over and over again, is really familiar.
I've heard so many stories like it… in my years of reporting on homelessness.
And that's mostly… because of sweeps.
Sweeps are an almost unavoidable part of living on the street.
And they're so disruptive. People regularly lose all of their belongings in sweeps. Phones. ID cards. Medication. Their entire homes.
It's one of the most painful experiences that people go through.
Jasmine had been different. A community had formed there because people had managed to stay there for longer than other places. Partly, this was because there hadn't been any major sweeps there. It was a place they could call home, even though actual housing was still out of reach for them.
But they weren't going to be able to call that street home for much longer.
That's why I met Kaz and BJ in the first place.
Because they'd just found out that there was a plan in place to sweep them from Jasmine, too.
But this time around, Kaz, BJ and others decided to fight.
BJ: I even told Kaz – I'm very, very in tune with my spirit.
Matthew: BJ is someone who's been very strong about wanting to resist.
BJ: Yeah, me and Rebecca, we want to resist.
Kaz: Well yeah, me too, because we've been here for a while —
BJ: We've become a community —
Kaz: Why didn't they kick us out two years ago? Yeah, we have, we have.
BJ and Kaz: We've become a community.
Kaz: My name is Michael uh … Kaszubowski is my last name … okay, so I go by Kaz.
Liz: I first met Kaz in early May during the first week of the writer's strike. He told me he used to work as a screenwriter for Warner Brothers. It was burning him out, so he decided to stop.
Kaz: "I was a writer risk of UCLA. I had awards in that school and all that stuff for writing, you know, being one of the better writers, I guess, you know, I have creative writing words, a list of … So they invited me and you know, through stressful events that she was going on, and then they started consulting, and we were started talking about writing, and they liked my ideas.
Liz: By the time I met Kaz and the others, the encampment had grown into a small community of about 20 people.
As we talked that day, Kaz told me the story of their community on Jasmine Avenue. At first, a woman in an RV started living there.
Kaz: Rebecca was the first one, … She was the first RV that moved here …
Kaz: we were all on Venice, originally…. we had to move so I recommended we come here, you don't go to church, maybe the church will be understandable.
Rebecca: My name is Rebecca Carner.
Rebecca: I'm 68, 68 and a half. …This is my eighth year here. Yeah. So yeah, being outside is not a big problem for me. Thank the Lord. I did a lot of backpacking, as a nature survivalist was so,
Kaz: We helped her move, we towed her RV because it wasn't drivable either. And then I moved right after. The next day.
Liz: Kaz is kind of a special person. In a lot of ways, the encampment grew around him. Lots of people said that Kaz made them feel safe. Like Jackie.
She had a tent under a pine tree on Jasmine Avenue. I asked her why she chose this street.
Jackie: He makes us all feel safe … there are a lot of elderly that are staying here, kind of take care of all of us. A lot of women feel safe here. Women, gays, and elderly are safe here.
Liz: I also felt at ease when I met Kaz.
That day, I was doing my first audio interview.
I was asking one of my colleagues, Phoenix, about what to do. Kaz chimed-in, in a way that made me feel comfortable.
Liz: should I like, just act natural?
Kaz: Natural. I say natural, it's hard to do sometimes, but natural is best
Liz: The Jasmine encampment is just off a larger street, and it felt kind of like its own little world. Jasmine has a few apartments, a mechanics shop, and a few other storefronts.
The encampment was just down the block from Sony Pictures — you can see this large rainbow peeking out from the studio. It's a piece of public art commemorating the Wizard of Oz — which was shot right on that lot, when it was still MGM.
And then… there's the church.
It's a big Gothic building that takes up almost half the block. It's a Catholic church, called St. Augustine.
When I first visited the encampment, everyone talked up the church and about how it helped them.
Some people said it made them feel safe. They even defended the church from people trying to graffiti its walls. Here are Kaz and BJ again.
Kaz: whatever is being done. We're not, we never go against our own neighborhood, … we would protect our area …
BJ: Like, one day, recently, prime example, there was an outsider that came … And there was an outsider that came and tried to tag the church. And I jumped on their ass … pardon my French, I jumped on their ass. I said 'No, not the church.'? … And the outsider was like, "Oh, sorry," they put the paint away and left.
BJ: My actual name was Brett Armstead. But I go by BJ Sanchez.
BJ: I've done a lot of wrong in my life, and I'm trying to right my wrongs. I'm very, very protective of the church. … What you don't want done in front of your house, you don't want done in front of a church. It's a respect thing.
Liz: So no one from the encampment had a bad word to say about the church.
But the church, and its parishioners, it turned out, were not at all happy about their unhoused neighbors.
In the last year, the church had been leading a campaign against the unhoused residents of Jasmine.
Repeatedly and persistently asking council member Katy Yaroslavsky's office to get rid of the encampment that had formed next to them.
My producer Carla and I spoke to one parishioner who said that she had been campaigning to displace the residents of Jasmine for years.
Michelle: But I have I have been writing things I have been calling and understanding how the city government works. And it's just da da da da da and it's just been hard.
Carla: What's your name?
Michelle: Michelle Bond. I'm a parishioner here at St. Augustine.
Carla: Okay. So you've been involved in trying to help coordinate people calling to complain about the encampment?
Michelle: Yeah, well, it's not about just complaining about the encampment. … It was like, I feel sorry for homeless people. But this was crime, stealing water from the church, electricity from the church fires, drug deals going on.
Carla: But so I mean, where, what would you like to happen with the residents of the encampment? Like where? Where are they supposed to go?
Michelle: The city needs to figure that out. That's why we pay them a lot of money to solve problems. … There's a difference between people who are homeless. Who go, I lost my job. Hey, look, if this was people camping out here, families, I'd be like, You know what, I totally get it. We bring, there's food in our pantry, you need food, we got food, we can take care of you will find you place. This is a whole different set of circumstances. …
Carla: But have you spoken to the current residents of this encampment?
Michelle: I'm sorry, a woman chased me here. Her dog bit me. I'm sorry. These men over here with all the bicycles and the drugs? How am I supposed to go talk to them? It's not safe.
Carla: Um okay. I'm just wondering because you said there are no families. But I don't know how you'd know that if you haven't talked to anyone —
Michelle: I'm saying if though that if you have tents full of mom, dad and kids are tents of single women living together, not doing drugs quiet, not messy putting trash, then it would be like, well, we could talk to them safely. But this is another situation.
Carla: So there were single women living in this encampment.
Michelle: Okay, you know what? I know who they are. She's chased me. Her dog bit me. I'm done commenting.
Transition: Wizard of Oz — She bit her dog
There are people like Michelle all around the city.
Lobbying local politicians to displace their unhoused neighbors.
Here's how it usually works. An encampment forms. Nearby residents and businesses complain.
And then, the encampment gets swept. People get pushed to a different block, the way Kaz and BJ had been for years.
The operation on Jasmine didn't happen because housing was ready and available. It was driven entirely by complaints.
The complaints were coming from different places – a business owner, apartment residents, Sony studios. And of course, the pastor of St. Augustine, and the principal of the adjacent Catholic school.
And then, city council leapt into action.They set up a zone around the church and school that prohibits encampments. Under a controversial municipal law named 41.18.
Councilmember Yaroslavsky has actually publicly questioned that controversial law. 41.18. She asked for a report on how the law is carried out. Which still hasn't been published. And she's spoken out about the need for more affordable housing and services for everyone living on the street.
And just after she came into office in December 2022, Councilmember Yaroslavsky at first tried to find a place for the residents of Jasmine Ave to go. But of course, she ran into hurdles finding permanent housing for them.
And then… it seems like she just gave up.
By the way, we asked Yaroslavsky's office for comment on the plans for the Jasmine Ave community. They didn't respond to our questions on the record. But a Yaroslavsky staffer did write in an email to activists that it wasn't QUOTE tenable for people to remain on Jasmine and that they were QUOTE working to resolve this situation in as humane a way as possible.
Apparently, the humane approach that Yaroslavsky's office found… was a sweep.
When I first met BJ and Kaz in early May, it was just before Yaroslavsky was about to do a sweep of their little community on Jasmine Avenue.
BJ told me that Yaroslavksy's office had already tried to do a sweep once before.
That one ended up getting downgraded to a spot clean.
Liz: The last time they tried to do this. You said that they were trying to do a sweep. And when you learned about it, what'd you feel?
BJ: Lost, confused, but like Kaz said, uh, pissed off, because I don't. I don't, I felt like I was let down. Just the lack of communication. The lack of communication between the city and the homeless.
Kaz: the agency, the ones that are really not doing anything. I mean, lots and lots of the one hour, I mean, I'm not going to complain about nobody. I don't, I don't like being negative, but. But LHASA's just been coming over, just giving us water, food, whatever.
Yeah, just water. I didn't know nothing. You know, I asked about the housing. Nothing. Same. That's what they say. Same. Same. You know?
any normal individual would say, hey, that's fair to offer them something, right?
What's your reason for you know, taking all their stuff, and tell them, what's the reason?
Liz: Yaroslavsky's staff still didn't have any permanent housing to offer them.
But they said the residents of Jasmine had to move anyway.
So their plan was to just move everyone living on Jasmine to another street a couple blocks away. On Keystone Avenue.
Everyone would still be living on the street… but they'd be out of sight of the church that had been campaigning so hard against them.
But the Jasmine encampment residents were not about to let that cycle repeat again. They were done moving from one sidewalk to the next. So they considered resisting the sweep. In direct opposition to the council member's plan.
Here's Rebecca again, the woman in the RV who was the first to move to Jasmine.
Rebecca: We're having a meeting across the street at 6 o'clock to see how we're gonna stand up against this.
Kaz: That's a setup over there. I think.
Kaz and others were suspicious of Yaroslavsky's plan.
They went to check out that other spot, on Keystone Avenue. And the new proposed spot was right in front of a building that was about to get demolished.
Kaz: they're trying to put us over there, on a residential street. We got nothing, because they're not going to move our RVs over there, you know, for sure, they will just tell us, go over there that spot rule of law probably got some little, little tents, maybe, that they give us or something.
Manfred: Okay, so it's a real thing. So…
Liz: This is Manfred, another unhoused resident I met at Jasmine Avenue. He was also skeptical of Yaroslavsky's plan.
Manfred: I would be more than happy to move if it's legitimate and not fake. It seems a little phony to me,
Liz: There was another, bigger problem with the plan.
Many of the residents of Jasmine Avenue talked about being on the list for a permanent housing project that was set to open in Culver City, called the Sunburst.
Some of the unhoused residents of Jasmine were told months ago that the Sunburst would be open. They were also told that they had to stay where they were — just on the border between the city of Los Angeles and Culver City — to get into the housing.
At first the Sunburst was going to open last September, in 2022. But that got delayed over and over again.
As residents of Jasmine waited for the Sunburst project to open, they worried that if they moved, they would lose their spot on the list to get into the Sunburst.
If the idea was to get the residents of Jasmine off the street… sweeping them just didn't make any sense.
So after their meeting, they ended up writing an open letter to Yaroslavsky, with the help of an organization called PUMA. Short for Palms Unhoused Mutual Aid. PUMA does outreach and advocacy and was working with the Jasmine community.
The letter asked Yaroslavsky to let them stay on Jasmine Avenue until they all got housed.
And that they get consulted on the plans for their community. Like any other constituents would want.
Here's an activist reading from the letter over a megaphone.
Brett: We know what we need, listen to us, talk to us, learn from us. We want a chance at housing and we need time … The Jasmine community would like to propose alternate solutions. Do not force us to move without our housing options being open. We want to move to housing, not to another site that is even more dangerous to us. … We want written agreements. We have been lied to and tricked and ignored for so long.
Rebecca helped write the letter. But she told me that she felt the open letter could have been even stronger. She felt it didn't quite capture how brutal it actually is to get swept.
Especially because… the sweep was coming as some people at the encampment were in mourning. Jesse, a member of the Jasmine Ave community, had passed away less than two weeks before the proposed sweep.
In the letter, Rebecca and her neighbors wrote QUOTE our friend Jesse lost his life waiting for this housing. These failed programs kill, and displacement will hurt us even more. We want house keys, not handcuffs.
Rebecca: I liked the letter. It was kind of a soft letter I would have been more, you know, a little more firm and a little more you know, that had when we dug into whatever myself but it did point out a lot of things and was one thing it didn't point out that you know … picking up all your entire camp and everything you live with it, bringing it back and forth within a few minutes. It sounds great if you're an athlete, but some of us just aren't and we're older or even not so fit or have lung diseases, human problem, and it's very inconvenient. It's almost inhumane.
Liz: The letter didn't work. The councilwoman moved ahead with her sweep anyway. On May 18th.
It was the first of two sweeps that would eventually displace their entire community.
On the day of the May 18 sweep, Jasmine Avenue transformed.
It wasn't the quiet, tree-lined little world that it usually was. City vehicles, garbage trucks, bulldozers, and police cruisers were rolling up and down the street.
Cops were everywhere. A huddle of city officials formed in the church parking lot, getting ready for the operation.
Sanitation workers were knocking on the doors of the RVs to warn people that they needed to stay inside as the sweep removed whatever was left on the sidewalks, including the tents of their neighbors.
Yellow caution tape was set up at either end of the street. A police officer marched up and down Jasmine Ave. Doing a countdown to when people needed to leave. So that the sanitation workers could start bulldozing their homes.
Liz: So they only have 10 minutes to get what they can out of here.
Acosta: Well, they've been given a lot more time than that. It's 10 minutes left until the clock is done.
Liz: Early that morning, even before most of the city workers got there, the activists had been at the encampment.
They set up barricades, and signs, including one that read Katy Lies.
PUMA had done a call-out asking people to show up. The activists helped people gather up their belongings so they wouldn't get taken away by the city. And they negotiated with the city officials to try to buy people more time before they had to leave.
Ndindi: We've been here since 6 AM.
Liz: This is Ndindi, a member of PUMA. She said that the pressure had forced the council member to drop her hastily-arranged plan to point people to that other street a couple blocks away.
The residents also didn't have to leave Jasmine – yet.
It was a short-lived victory.
They didn't know it yet, but they would be forced out the week after, on May 25. During another sweep.
Ndindi: So we put out a community letter, and we sent quite a few emails. And I think actually, they've been making concessions today. And I think part of it is we put up a blockade, we have press, and they can't actually justify what's going on, … So we're, we're just going to help people move their tents beyond the caution tape, then we're going to help people move back. And then I think CD5 said, if people's tents are trashed, that they will provide a tent, but we'll see. We have tents on hand, because that happens, a lot of stuff is just gone. …
Carla: And then in terms of next week, it sounds like they're gonna come back and do it this week. Keystone is about right.
Ndindi: I don't think that the city cares that people move to Keystone. I think they care that people are not here.
Liz: By the second sweep, on May 25th, the council office had abandoned their plan to push people to the other street a few blocks away. They had once again pivoted.
And now, they were trying to find motel rooms for the residents of Jasmine after facing pressure from the residents and their advocates.
But that still meant that people would have to leave the home they had found on Jasmine. They'd have to move to an unfamiliar motel across the city… without knowing how long they'd be allowed to stay there. And that was mostly thanks to the church, its parishioners, and their dedicated campaign of complaints.
Liz: Like we said before, many people who lived on Jasmine had complicated and sometimes conflicting feelings about the church.
Many of the people who came to live at Jasmine did so partly because the church gave them some kind of comfort.
It felt familiar and safe, especially for people who lived in the neighborhood when they were housed, like Rebecca. Rebecca used to attend mass at St. Augustine and her son was baptized there.
BJ also grew up with the church and is protective of it and the people there.
During the second sweep, Carla and I spoke to Manfred again. He was sitting in the parking lot waiting to leave Jasmine for a motel.
Manfred talked about how he lost the keys to his car, an ordeal he described as a "complete and total nightmare." But he said the people from the church helped him pay off his fines so that he could prove the car was his.
Manfred: Oh my god, the church is wonderful. They're so nice
Manfred: They're beautiful, beautiful wonderful people. They have some outreach programs. And I asked them, I said, 'Can you please help me get the keys to my car? It's parked over there?' And they go, 'Well, we'll see.' When we came back a week later – these wonderful people – they helped me every day for two weeks.
Liz: He said that he couldn't sleep in his car for some time, so they put him into a hotel. Since he was praising the church parishioners. I asked him what he thought they would think of the sweep.
Manfred: The operation of getting rid of us? Oh they're singing, the angels are coming down from the sky. So you know Hallelujah, so I'm sure they're happy to see us go. I mean, I would die if I came out and I saw this mess in front of my house.
Manfred: Who wants that in front of your house? You're on sidewalks, blocking things up, dirty people, fighting and drinking. That's not a way to live.
Carla: But why should you guys have to be displaced when you there's nowhere else for you to go? You know?
Manfred: Well, that's the dilemma. That is the dilemma, that's the worry, that's the concern. That's why it's hard for us to believe anything that anyone says.
Carla: Yeah, it's just, it doesn't, it doesn't seem fair to me. You know, like, Sure, maybe it would, it would be more convenient for them if nobody lived on the streets. But the reality is that people do, right?
Manfred: The reality is people do. We are people. We have feelings. We have, we're regular people,there's people with children, you know, people that once had normal lives … the mentally ill, of course … you know, people that don't deserve this. I didn't deserve it. And they don't either.
Manfred: I can't even look at anybody in the eye anymore. They just looked at me with disgust and uh very sad. They didn't used to, but they do now.
Manfred: You know, I used to be, I was one of them. I would point my finger, and go 'Oh my god, get a job, get a life, get a – and now I just go, 'By the grace of God go I.' So that's my story. I don't really want to talk anymore.
Liz: Shortly after we finished talking to Manfred, he left
Jasmine Avenue.
Maybe for good.
As the sweep wrapped up, a line of cars driven by advocates and council aides was slowly leaving Jasmine Avenue, loaded with the encampment's former residents and their belongings.
While some of his neighbors tried to decide if they wanted to go to the motel, Manfred was already sitting in the car, window up, waiting to go.
The first time I went to Jasmine Avenue, I asked Rebecca and Kaz what the encampment meant to them. And why they were willing to fight to stay there.
Rebecca: Well, you know, as a matter of fact, I'd have to say everybody gets better here. …It's friendly. And we tried to approach things differently in, you know, so … Yeah, so we just tried to keep it as friendly and gentle.
Kaz: We're like a family here. Yeah. Yeah. And chances we are. … we know each other, and they'll be all will be will give it to it. We'll be supporting each other. We are lucky. We learn to live with each other, you know, so.
Rebecca: Yeah. If you're camping with a group of people that are, that are nice and pleasant, you're very lucky — very lucky. So we are lucky. Yeah. Now, next time I moved, don't follow me.
Liz: A couple months after the sweep, I caught up with Rebecca, who had moved to a different street in the same neighborhood. When we talked, she and her new neighbors had already gone through two sweeps on the new street she'd moved to after Jasmine. They were expecting yet another the next day.
But even so, Rebecca seemed to feel lucky that she hadn't taken the offer to move to the motel.
Rebecca: So the people that went to went to Inglewood into a hotel, which is located close to the airport, there's really no access to anything that you would normally have grocery stores, laundromats things of that nature. They're just sitting there, … And I don't know what the outcome will be. … We were lied to in many ways, and there's no paperwork, almost anything they give us. You know, I mean, they say certain things, and there's no paperwork on it.
Liz: Remember that affordable housing project in Culver City that was supposed to open, the Sunburst? Before the sweep, several Jasmine residents had been told that they were on the list to be housed there, and that they shouldn't move. They were worried that if they got swept, they'd lose their spot on the list.
The Sunburst finally had its ribbon-cutting ceremony last month.
But when I caught up with Kaz, he told me some bad news. He said he talked to an outreach worker recently who showed him a letter, saying both he and Rebecca had been taken off the list.
Kaz isn't sure why he's not on the list anymore.
Kaz: I don't know what happened I guess somebody over there head … said look, then uncover says he ticked off the list, you know, so he probably wasn't supposed to tell us wait there …
Liz: Did you see the letter yourself?
Kaz: Yeah, I saw the letter Yeah.
Liz: How did you see it?
Kaz: LAHSA showed it to me … My name, Rebecca's name …
Liz: What did the letter say?
Kaz: It said like so I don't remember details. But it said something like, due to circumstances of not living residing in something like that Culver City. We can't we have to lay you know, we take them off the list.
Liz: There's another way that the encampment on Jasmine could've been cleared. Everyone from the encampment could've moved into a permanent housing complex. Like the Sunburst. It might've taken longer. There isn't enough permanent housing for every unhoused person in Los Angeles right now.
But it would've stopped the cycle of pushing the residents of Jasmine from one block to the next.
Of course, that's not what happened.
So now, everyone from Jasmine is still in a precarious housing situation. Or just — back out on the street.
You could argue that they're just as far from permanent housing as they were before Katy Yaroslavsky came into their lives.
Liz: I also caught up with BJ, in June.
BJ: Today we had to move all over. I always had to move rooms. And I found out we're going to be there. One person said a year in the hotel. And then I heard today, um, two years, but I would move every month.
So, it's just, at this point, it's just sit and wait.
Liz: During the second sweep, BJ had at first resisted going to a motel because it was miles away. And he was worried he wouldn't be able to get around easily. A council aide in Katy Yaroslavsky's office eventually got him to leave… after telling him the motel would be near the rail line.
The city has come to rely on motel rooms as a stopgap measure when they want to clear an encampment but they don't have any permanent housing to offer people.
But conditions in the motel rooms are often bad. Some motels are ridden with bed bugs. At the motel BJ moved to, they're not allowed to have guests. And they have to move rooms every 30 days.
And when people get moved into motels after sweeps, it hasn't reliably translated into permanent housing. People sometimes end up right back out on the street after a couple months in a motel.
The residents of Jasmine wanted to get off the street. But they didn't want to give up the relative safety of the community they'd formed… in exchange for a couple months in a dingy motel. That just doesn't feel worth it.
BJ: I feel like I'm in limbo I was also saying … I feel like I've been abandoned that's one other reason why I want to go back. I feel abandoned there's literally a business out here
Liz: BJ is still drawn back to his old neighborhood. Even though it's an hour away by public transit or bicycle.
The buses run more often in Palms.
There are places where he feels comfortable getting a warm meal, charging his phone and taking a nap, without worrying about security harassing him or his things getting taken.
BJ had told me earlier that he puts a lot of thought into where he lives. He goes by his gut.
He says the neighborhood around Jasmine Avenue is a place that still tugs at him.
He said it feels like home.
BJ: That's one thing that Billy, one of my friends asked me, he says, 'Why do you want to move back to the west?' and I said because it's home. I felt like home there. Everybody made me feel like I was at home.
---
That was LA Public Press city reporter Elizabeth Chou, reporting on the unhoused former residents of Jasmine Avenue, in Culver City.
For more context on what happened at the Jasmine encampment, head to our website at lapublicpress.org, where you can find the print story / print stories that Liz wrote about what happened.
Smogland Radio is produced by Phoenix Tso and Carla Green. I'm your host, Nancy Meza. We're a production of LA Public Press, a non-profit newsroom for Los Angeles.
Eduardo Arenas made our music, and Jaime Zacarias made our show art. Special thanks to the Robinson Space where we record this podcast! And to reporter Steph Brown, who recorded the protest audio you heard at the top of the episode.
Additional music by Epidemic Sound.
Also – we're a newsroom funded entirely by donations!
If you like the work that we do, you can support us by becoming a member at lapublicpress.org slash donate.
You can also support us by leaving us a review on Apple Podcasts, telling your friends about us, or following us on social media. We're on all platforms at LA Public Press.
Thank you so much for listening.
We'll see you right back here in a couple weeks for our next episode.