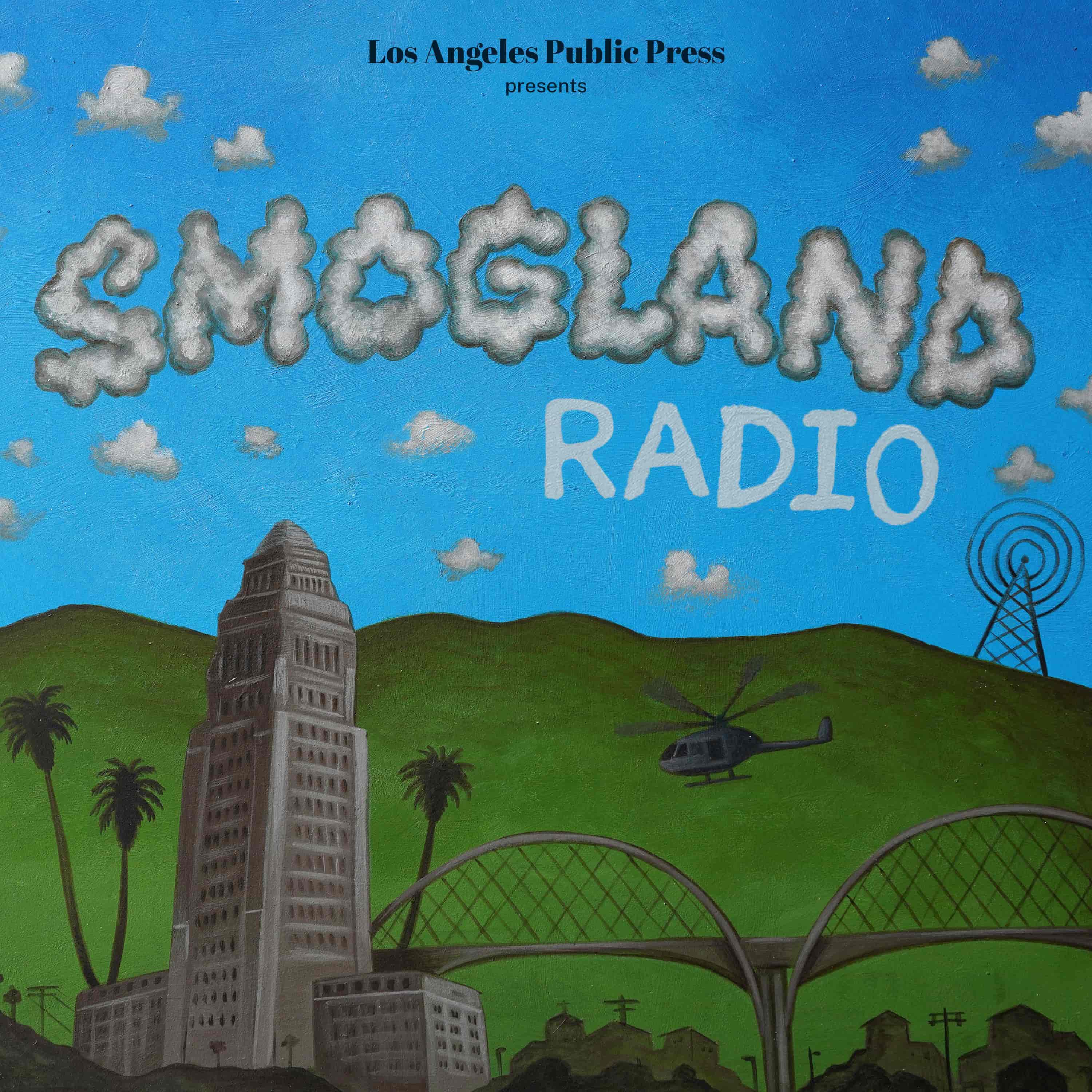 Smogland Radio
Smogland Radio is a news podcast by and for LA from Los Angeles Public Press. Twice a month, we'll have reporting that holds powerful people accountable, advice on how to thrive in Los Angeles, and in-depth stories about the issues that affect all of us. We're hard on this city, because we want it to be better. We may be one of the smoggiest counties in the country, but we don't have to be.
A battle on the streets of Huntington Park
This week, we're going to the Southeast LA city of Huntington Park, where street vendors and vendor advocates have found themselves in an unsettling battle with the city. Plus, our correspondent Ruth tells us why her relationship with Staples is… complicated.
You can find the videos Ruth references in her story here (https://x.com/FilmThePoliceLA/status/1650613941071155200?s=20) and here (https://x.com/FilmThePoliceLA/status/1650228253251231744?s=20)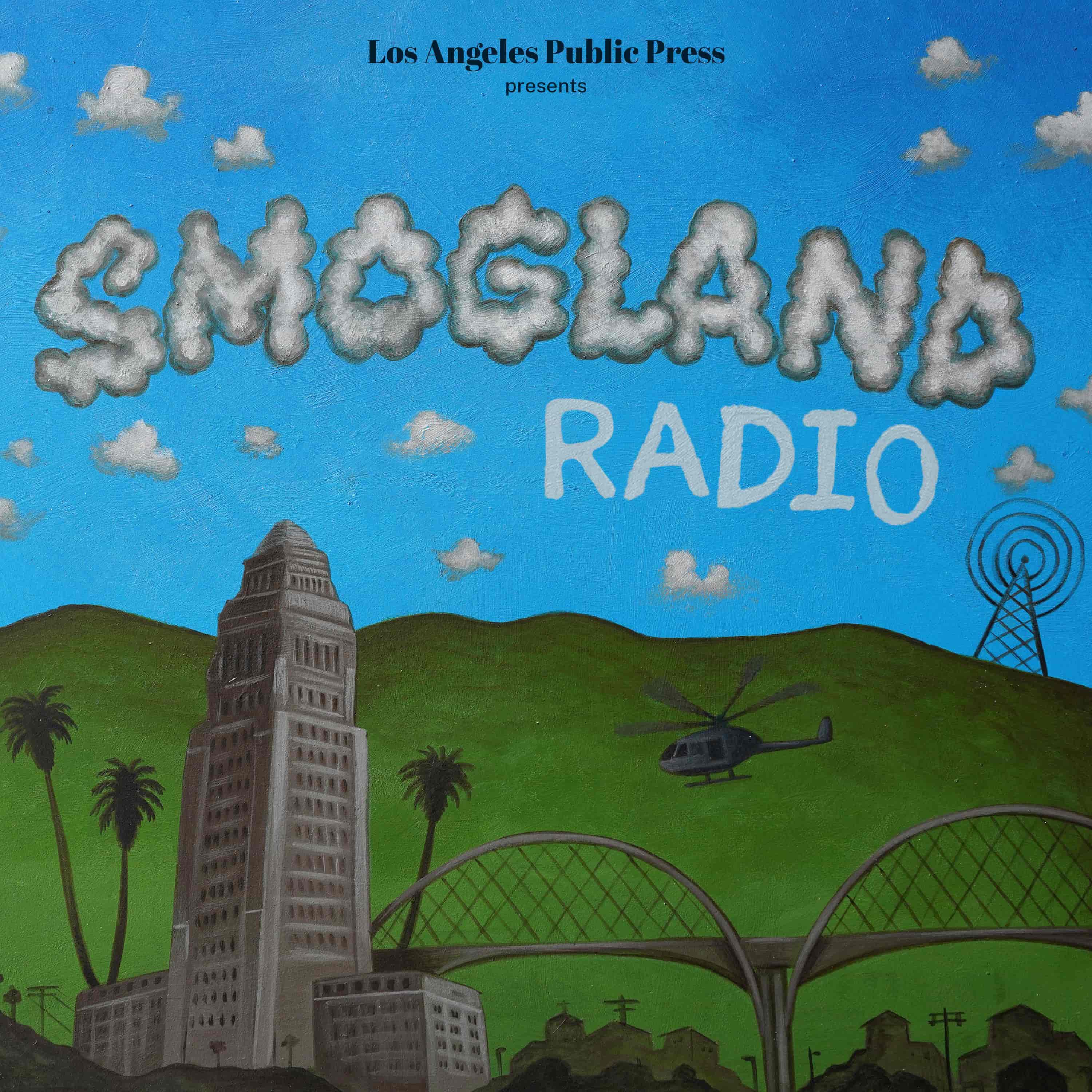 Search Results placeholder
This week, we've got a report on mutual aid groups who are trying their best to keep people from going hungry — since government assistance isn't nearly enough. And, we're going for a walk through Little Tokyo and Skid Row with Theo Henderson, host of the podcast We the Unhoused. Plus, community updates on Star Garden, Suehiro, and more.
For more information on Suehiro, you can read this article. To leave us a voicemail, call (323) 200-9539.
Transcript
Nancy: You're listening to Smogland Radio, broadcasting from the food pantries, block parties, and public pools of Los Angeles.
I'm your host, Nancy Meza.
Welcome to a new episode of Smogland Radio, a production of LA Public Press. Each episode, we're gonna be going on a little journey across LA together.
Remember that this is your news podcast about the city we all hate to love and loooooove to hate.
But first… Smogland Radio is made possible by our donors and supporters. If you haven't done so yet you can become a supporter at lapublicpress.org/donate.
Today on the show, we're gonna be taking a walk through Little Tokyo and Skid Row with independent journalist and organizer Theo Henderson, he's the host of the amazing podcast We the Unhoused.
We're also trying something new this week — community updates and things you need to know… at the end of the episode.
---
But first, we've got a story from LA Public Press reporter Phoenix Tso.
It's about the volunteers who have stepped up to fill yet another growing void in our local and federal governments: making sure that people have enough to eat.
This seems like something our government should have figured out by now, but it unfortunately hasn't.
SNAP Benefits or better known as Food Stamps have been a staple resource for Angelenos trying to make ends meet and survive this city, especially during the pandemic.
And food insecurity is actually more common than we think.
And if LA politicians had one ounce of the commitment these volunteers have to their neighbors, the world would be a better place to live.
Thankfully, these groups are not waiting.
Here's more from Phoenix.
Phoenix: We're at a corner store in Skid Row. The first thing you see is a standing chalkboard with an inspirational quote…then baskets of produce, and a coffee station on the right.
This is Skid Row People's Market, and it provides healthy affordable food to the Skid Row community.
I'm talking to Debora Jackson by the frozen foods. She lives in the neighborhood and relies on food stamps. She was getting $192 in food stamps until a few months ago. Now, she's only getting $105.
"It's a big difference…so now I have to really kind of budget myself…"
Debora went down to the cash assistance office and asked "what's going on?"
"And they were like… 'No, we're not supposed to be because they only done that because of the COVID.' "
At the beginning of the pandemic, the federal government increased food stamp payments to help people weather the lockdown.
U.S. Census data shows the extra money helped. More households could buy food they needed.
Now, we're still in a pandemic, but extra money for food stamps ran out in the Spring, and the federal government isn't providing more. This means food pantries have to shoulder even more of the burden of giving people food, since the federal government has stepped back.
And also pandemic eviction protections are over, and landlords are filing more eviction lawsuits. People have to pay back their rent or risk losing their homes. Everything is more expensive – diapers, food, you name it.
"Even the 99 store… they raised their price up more than 99 cents now."
That's Judith Cortez. She's been waiting for the food distribution at the Islamic Center of Southern California to start… since 5 in the morning.
Since the extra food stamps went away, the Koreatown food pantry's numbers have doubled to 300 people.
On a Saturday morning during a heat wave, people of all races and ages; families, children, elders line up.
While I was turning into the parking lot… I saw a group of people run towards a table by the entrance to the lot… one person fell down in the scuffle…
Cortez explains that people are fighting over a number that volunteers give them… which determines their place in line.
"It's getting worse because of the high prices, more people are coming…so more people are coming, more fighting, more in the line…So, everything… got to be patient if you are here. Because, like now, it's already 913, it's so hot…"
But it's hard to be patient under those circumstances, and that's why the fighting happens. The next Saturday, volunteers try to avoid more fighting. A security guard hands out a sheet of ground rules.
"Hey, don't push. Don't push. Go back. Go back. Hold on. Hold on."
But people still try to rush the sign up table, so volunteers step in. One of them is a young unhoused man named Joshua Guerrero.
He started coming to the Islamic Center because he needed food.
"I don't know how that's happened, I volunteer…I didn't even ask anyone if I can volunteer… One day, I'm a volunteer."
So back in 2021… California passed a law requiring stores and restaurants to redistribute food they don't sell. But the thing is… there isn't adequate funding or infrastructure to help organizations carry this out. So the responsibility often ends up falling on volunteers like Guerrero to make sure the food doesn't go to waste.
And a lot of these volunteers face hunger themselves.
Guerrero ends up spending most of his week picking up leftover groceries from Ralph's and Vons for another distribution at his church.
"That's non-stop volunteering. I'm so tired."
Sometimes he's even too tired to go to the Islamic Center distributions on Saturday… but he always tries to make it…
"You know, it's just, be nice to people and help them, or else no one will help you."
I've been to several food distributions while reporting this story… and I've noticed that the volunteers there are very close – like a community.
It's so touching to see people look out for each other. But they can't and shouldn't have to fill the gap left by the federal government rolling back food assistance.
And some organizers say that local officials are not addressing the root causes of why people can't afford food on their own… why so many have to choose between eating and paying their rent so they don't lose their homes…
"Um, really appreciate you all coming. Um, I know it's really hot. We have cold waters. Um, just a reminder, you know, we're not a non profit. We're not funded by the city, because the city doesn't do shit for us…"
Every Saturday for two years… Jtown Action and Solidarity have set up a food distribution table in Little Tokyo… they give out hot meals, cup noodles, grab n go lunches… they also provide donated clothing, wipes and a phone-charging station.
They get a lotta unhoused people living in Skid Row… but since food stamps have been cut, they're also a lot of seeing housed people come by. They used to be able to give out seconds or thirds… now food runs out quickly… and tensions run high…
So Jtown organizer Zen Sekizawa has started making an announcement before each distribution…
"… We're just funded by the community and funded by love. So, if you could make sure to take what you need and give what you can today…"
Jtown started out serving a homeless encampment at Little Tokyo's Toriumi Plaza. They tried to stop the city from sweeping and displacing the encampment last year. But ultimately Councilmember Kevin De Leon went ahead with the plan, in partnership with some neighborhood store owners. The plaza is now fenced off.
Jtown continues to offer support to unhoused people nearby during sweeps … and protested against an anti-camping ban at City Hall last year.
It's no accident that Sekizawa mentions the city before every meal distribution. She wants people to pay attention to what the city is doing… or not doing.
"We understand that this is not a solution to the problem. This is just to help folks survive. The real solution to the problem is to overthrow the current conditions and for folks to organize and fight for their rights as human beings."
This isn't just a pandemic issue. Some people have been living without government assistance AND adequate access to food for a long time.
"There's also a lot of families that wouldn't qualify for the benefits, too."
This is Melissa Acedera. She started Polo's Pantry in 2018. It's a "mobile food pantry" that redistributes food around LA County, and some other parts of Southern and Central California.
"We were really like engaging with the population that were… really, um, very vulnerable and even couldn't qualify for some of the benefits that were out there."
Acedera says hunger has exploded during the pandemic, but even the extra food stamps haven't been enough. And lots of people don't qualify for them because they're undocumented.
During the pandemic, she started organizing food distributions with farmworkers in Oxnard and the Coachella Valley. She realized that the people who grow and harvest the food we eat aren't even paid enough to buy it for themselves.
Inspired by their example, Acedera has dedicated her time to helping communities organize their own food distributions. Like the Las Fotos Project. They're a nonprofit that teaches young women and gender-expansive youth from Boyle Heights and East LA about community photojournalism.
They often rely on grant funding. And when they have that money, they can purchase a reliable amount of food for their distributions. But when they don't have this funding, they don't always know how much food they'll be able to pass out. And there's often not enough for everyone who shows up.
I talked to Ash Romero about this. She's a Las Fotos student from East LA. She says it sucks when they're not able to give everyone who shows up a grocery bag. But she also says that volunteering is very rewarding.
"I love it because I get to help out the community and I love their faces. And they really, they're really thankful with that."
When I get there… Romero and staff members from Polo's and Las Fotos have received leftover produce. They have sorted out the fruits and vegetables that have gone bad … and have bagged the rest in reusable shopping bags. Then they put extra produce out in bins on the sidewalk. They hope everybody can get something… even if the produce bags run out.
People start lining up about an hour before the 4:30 start time, and within minutes after the distribution starts … the food is gone. Several people don't get anything.
Alanna Araujo is the Las Fotos Project community engagement manager. This is how she summed it up.
"This was a hard one."
For Smogland Radio, I'm Phoenix Tso.
Nancy: That amazing report was from LA Public Press reporter Phoenix Tso. To read a print version of this story, head to our website at lapublicpress.org.
We'll be riiiight back.
---
Before our next segment, we have a slightly weird favor to ask. We're working on an episode about how there's no public bathrooms in LA. And we're looking for good "I have to go but there is nowhere to go" stories.
Have you been three drinks into a night out in downtown?
Traveling with small children and no bathroom in sight?
Or In the middle of your hour long bus route back home?
Give us a call on (323) 200-9539 and tell us your stories, and we might feature them on the show.
---
Now, we're going for a walk with Theo Henderson. Theo hosts the very popular podcast called We the Unhoused, and he also lives in Little Tokyo, not far from the border with Skid Row.
As Theo often points out on his podcast, a lot of reporting on LA's housing crisis and homelessness is dehumanizing, unethical and in my opinion should be prosecuted as a hate crime.
Often, the blame for the Humanitarian crisis created by corrupt politicians in City Hall is placed on our unhoused neighbors.
This is a major reason why Theo's podcast is so important. Although often blamed, unhoused people are rarely talked to directly …as human beings AND as experts of their own realities.
BUT no one knows these streets better than the people who live there and no ones knows LA better than our unhoused neighbors.
That's why we wanted to give Theo the opportunity to take us for a walk in his neighborhood… between Little Tokyo and Skid Row… and show us those neighborhoods through his eyes
They're both subject to our housing crisis and unaffordable rents AND the pressures of a Gentrifying Downtown.
But one of them has more people living on its streets than anywhere else in LA
Literally the "epicenter" of our housing crisis.
Theo spoke to LA Public Press audio director Carla Green
Theo: This is Theo Henderson.
I am a podcaster that has created a podcast called We The Unhoused. I have eight- plus years of experience of being out on the streets in Los Angeles in various stages of houselessness. And I am here to talk about the Tale of Two Cities. Uh, on my journey today, we will be walking through Little Tokyo and into Skid Row.
I'm in the midst of its restaurants. They call it Ramen Row. You'll see on the restaurants here, restrooms for customers only, uh, you know, you or you must pay for something in order to use the restroom. So, which makes it much more like a Catch-22. For unhoused people is unhoused people have to use the bathroom, like housed people.
I'm walking also, pretty soon I'm gonna be walking up into the Tokyo Mall. I want to point out some historical spots. Right now I'm inside the mall here and one of the incidents that recently happened here in this community. I was sitting here in the Tokyo mall and there was a unhoused person that came by near a garbage can.
And some of the unhoused people are one of the most, uh, climate-friendly kind of entrepreneurs that go and they utilize, uh, the garbage cans to get recycled items. There was a security officer, saw this unhoused person getting, uh, uh, items out of the, of the garbage can, and he pulled out his baton and threatened to beat him for him to go into the garbage can.
Carla: Oh my God.
Theo: Yes. Now mind you, this unhoused person did not say anything to anybody, was not interacting with anybody. There's no reason. There's no logical reason for him to be able to be in up the arms, for him taking the garbage or taking recycled things and putting them in his bag and being on his way.
And so that's one of the incidents that happened. The second incident happened here, as you know, California has had inclement weather. And so there was an unhoused person trying to stay dry and was sleeping near one of the restaurants and one of the security officers aggressively attacked the person for sleeping.
And the person decided to defend himself, and as you know, being unhoused, you can never defend yourself. So, when that happened, they were, uh, they gathered together to attack him. And once again, I intervened to stop it and explain, all you had to do was just, you know, to ask the person politely to move. But what they did do was trying to physically, uh, harm the person for having temerity of sleeping in the mall.
Carla: Can I ask you, Theo? Like, I feel like a thing about Little Tokyo is that it's, it's very walkable. Like, it's a very, you're always see pedestrians on the street. Like, it's a very walkable part of LA. But then there's also, as you've been mentioning, like this very kind of aggressive policing of public space.
Theo: Absolutely. Those seem like these two, they seem like two opposed things, but they're actually kind of part of… They're juxtaposed because they're, they have this respectability politics, and this is not to besmirch the entire community, but the idea is that it's for people that look like they're the right type of people, the acceptable type of people, the hard working.
Instead of, uh, people like that are suffering from the effects of gentrification. poverty. So, as I move on, I'm walking again. I'm walking right near to the edge where I literally slept and was attacked by three inebriated white, uh, bar patrons literally outside, uh, a restaurant. We are also right near, very close to where Skid Row is, which is, uh, we'll get there in a moment.
It's a walkable route to go to Skid Row too, but most tourists do not try to take a detour walking into Skid Row because Skid Row is the epicenter of a lot of people in different stages of houselessness and mental distress and are engaging in different survival mechanisms, coping mechanisms. So it will shock people's housed sensibilities to see these things openly.
So here I'm on the corner of 3rd and San Pedro.
Carla: And so are you now like solidly in Skid Row or you're still kind of on the edge?
Theo: I've got a… actually, I may be like 20 steps before I get to Skid Row.
Carla: Do you, um, Are you noticing anything changing around you as you head from Little Tokyo into Skid Row?
Theo: Oh yeah, it's much more, uh, uh, tense in here.
Uh, more unhoused community members are here. Uh, as well as I see more browner faces. So here, right now, I'm literally in Skid Row. And I'm going to talk, I want to take some time to describe what I see. I'm right across the street from one of the places that calls itself the People Concern and the difference between little Tokyo… As I mentioned, there's an ambulance coming, so you might not be able to hear me….
Right now I'm walking right into 4th Street into the heart of Skid Row. So there are encampments here. I'm right now on 420 San Pedro. How you doing? Uh, so I have to walk out to the street, so if I have to take a few minutes to pause, bear with me, because I want to make sure I don't become a street pizza out here on the street.
Carla? Yeah. No problem.
Theo: Give me a minute.
Okay.
All right. So, uh, the LAPD just passed through here…
Right here we have, we also have, we have a little bit of a festivity here. There's a bus stop here that the 720 stop by.
Carla: Uh, It sounds like a, it sounds like a party.
Theo: Yeah, it is. People are definitely kicking their spirits up here. Well, you got to basically try to find happiness where you can no matter how, uh, dire circumstances are.
Carla: Can you tell me what, uh, was it just one guy with a speaker? Were there people like dancing? Like what was going on with the music?
Theo: Well, there's actually, I mean, there's two, there's two different competing radios going on. One, one section of the street there was this woman dancing. And the other side, there's other people sitting around, enjoying the music, and distantly engaging.
Like, you know, you could be out in the neighborhood on your patio, you know, chilling. There's a gentleman across the street from me here, now, that is barbecuing, selling his barbecue, uh, culinary delights to people that are interested. It smells good, too. What do you, what do you think he's cooking? What does it smell like?
Oh, it looks like he got, uh, some, some hamburger, some hot dogs over there. You know, and sometimes … they've put some steaks on or some ribs, but today they have hot dogs and hamburgers. Sixth and San Pedro right now.
Carla: And is there, you know, there's been security guards and stuff like that throughout the entire walk, even in Little Tokyo, but like, I'm curious if, does it feel, how does it feel different, the kind of security and um, harassment that you see in Little Tokyo versus what you see in Skid Row?
Theo: Well, because one, it seems like it's a tacit understanding here in Skid Row. Most of the security… here are probably unhoused or housing insecure themselves, and they will not exactly try to enforce the same type of anti black, anti unhoused sentiments as it is in Tokyo. Here, it's a little bit different because the unhoused community outweigh the security here.
So I think there's a second part of it too, if they were to engage in some of that type of hostility, their safety may be in question, or a lot of things that may or might go okay in Little Tokyo is not going to be okay with them running up on somebody unhoused out here. You have communities that stick together, but a lot of black and brown staff members working here.
And there's a lot of poor, uh, struggling communities that are half a step away. from being out on the street. So there's a little bit more empathy. I'm right across the street behind, uh, the Weingart Center, heading down to Gladys and right here from one end of the street to the other, there are unhoused encampments.
They've got, uh, tables out for people to sit and share. There's out there for people to have some food out here. It got music. I don't know, like, you probably heard the difference. For example, when you heard across the street when that music and stuff on, people were dancing. That would not happen in Little Tokyo.
Because Little Tokyo looks on, uh, that type of expression about another culture with disdain and derision.
Carla: And so it's like there's a kind of like, almost like, like joyfulness that you might see in Skid Row that you probably wouldn't see in like a neighborhood like Little Tokyo because it would just be shut down before it even begins.
Theo: Absolutely. 'cause you can't be yourself. This is the, uh, landscape that we are moving in. Uh, there's a lot of, uh, encampments on the sidewalk, so I'm walking through the street, so give me a minute.
And so my closing thoughts is, I try, hopefully this shows what we have in our communities right now, which I've been taking it upon myself to really talk about is this meritocracy and this respectability politics that has infected our communities. And I hope to show that it's not servicing anybody. So if you can't see that.
Then it is time for you to take a longer, sober look at, if you become unhoused, how do you think they're gonna treat you? Or for the policies that you were okay doing with, uh, the black unhoused, black and brown unhoused community. They will be using those same policies and resources against you as well.
Nancy: That was Theo Henderson, host of the podcast We the Unhoused, talking to Carla Green.
---
Last up on the show today, we've got a new segment: community updates.
And we're gonna start with a bit of a eulogy for a beloved Little Tokyo institution.
Suehiro.
In case you don't know, Suehiro is a restaurant that's served Japanese comfort food in Little Tokyo for more than half a century. And they're being forced to move by their landlord. That's happening more and more in Little Tokyo and other historical neighborhoods like it.
I have so many memories of going to Suehiro over the years.
It was the last restaurant I dined at right before the pandemic began and we all went into lock down. I went there for some bomb Udon after an Antibalas concert in Downtown.
Suheiros has always been a late night spot. It's a place where you walk into the chatter of friends catching up and where no matter what you order, it's always gonna be good.
It turns out, I'm not the only one who's got Suehiro memories. A lot of you do, too.
So we wanted to put them together as a tribute to Suehiro as it moves to its new location.
Here are excerpts from a couple voicemails we got about your Suehiro memories over the years.
Voicemails: My most memorable moment at Suehiro Café also occurred on a very memorable day, which was the day of my wedding back on September 19th, 1998.
My mom, who's in her 60s, has, um, always frequented, um, Suhiro and, um, she always took us there as kids to eat. I grew up going to that restaurant.
We ended up spending our honeymoon night at the New Otani, which was on Los Angeles Street on 2nd. And we were hungry, so we went over to Suehiro Cafe for a midnight snack.
Um, and it quickly became one of my favorites, and it's really hard to stray away from uh, any, uh, that restaurant to go to any other restaurant to eat.
And I was joined by, uh, these seven to eight other friends who just wanted to hang out with us on our wedding night.
Now I get to take my little one there, and I hope that when he's older, he finds that it's his favorite, too. So, we're sad to see them move, but, um, we're happy that they're still going to be open.
Nancy: If you want to know more about Suehiro and the reasons why they have to move… you can check out an article written by our own Phoenix Tso at lapublicpress.org.
We'll also link to it in the show description.
Up in North Hollywood… the Star Garden Topless Dive Bar has reopened as the nation's only unionized strip club.
The strippers there fought for over a year to get management to recognize their union.
And now part of Actors Equity.
They hosted a sidewalk party to celebrate the reopening. There was lotsa camera crews and other union members there. And Tom Morello from Rage Against the Machine played a few songs…
Tom Morello: When I say "union," you say "power."
Union! Power! Union Power
Nancy: It's been hard for one of the strippers – Selena – to even go to North Hollywood during their fight to unionize. She said it was "traumatic" for her. But now…
Selena: I'm really excited. Um, there's still a lot, a lot that we need to bargain. I think it's like a year worth of bargaining. Um, the conditions are a little bit better, but not as good as we want them to be. So I'm hoping that maybe within a month things will be different, but… I can only wait, like, until, like, it's actually the dream club that we've been imagining for years.
Nancy: In early 2022… Selena and another dancer were fired for raising safety concerns with management. That was when a group of Star Garden strippers decided to unionize.
Now, they're in negotiations with club management for their first collective bargaining agreement.
And now we've got an update on LA City Council corruption watch.
Former council member Mark Ridley Thomas was sentenced to 3.5 years in federal prison last week. A jury found him guilty on 7 felonies including bribery and conspiracy. It was all part of a scheme to land a cushy job for his son, after the son was accused of sexual harassment.
And for all you corruption watchers out there, NOlympics Los Angeles has put together a corruption dashboard. You can find it at nolympicsla.com.
And we've got a dispatch from a recent LA city council meeting.
"I'd like to speak on items one…"
This is Stacey Segarra Bollinger. If you've ever gone to a city council meeting, you might've heard her there making public comment and singing.
"With every job that must be done there is the element of fun…"
Sometimes Stacey's songs are about a particular issue facing the council, like LAPD's brand new, very expensive contracts.
"Police get more to intimidate the poor…"
And sometimes the songs are about a specific council member. Like last week, Stacey wrote two songs for Kevin DeLeon, who never resigned despite being part of the racist council tape scandal last year.
"KDL resign…"
As Stacey begins to sing, an older looking man starts dancing behind her.
"We're still begging you to resign. And we need you to resign. And they promised to break quorum. But their words were only lies. Now they help you move your motions.
But you'd only be making it right. If you'd file your resignation, we could fix the lines on the map that you've drawn. We don't want to wait a decade for it, Krekorian. You really need to resign. Kevin DeLeon, resign. Kevin DeLeon."
"Once upon a time you were drawing a map, but now it's only falling apart. There's so much you can do, a resignation's a start."
"Okay, thank you. Uh, next speaker, and Mr. Spindler, please stop dancing. Uh, it's distracting. That's your warning."
Have you got a community update you want to share? Give us a call at (323) 200-9539‬. We'd really love to hear from you.
---
Smogland Radio is produced by Phoenix Tso and Carla Green. I'm your host, Nancy Meza. We're a production of LA Public Press, a non-profit newsroom for Los Angeles.
Eduardo Arenas made our music, and Jaime Zacarias made our show art. Special thanks to the Robinson Space where we record this podcast! and to Sherin Varghese of Ktown for All.
Additional music by Epidemic Sound.
Also – we're a newsroom funded entirely by donations!
If you like the work that we do, you can support us by becoming a member at lapublicpress.org slash donate.
You can also support us by leaving us a review on Apple Podcasts, or following us on social media. We're on all platforms at LA Public Press.
Thank you so much for listening.
We'll see you right back here in a couple weeks for our next episode.