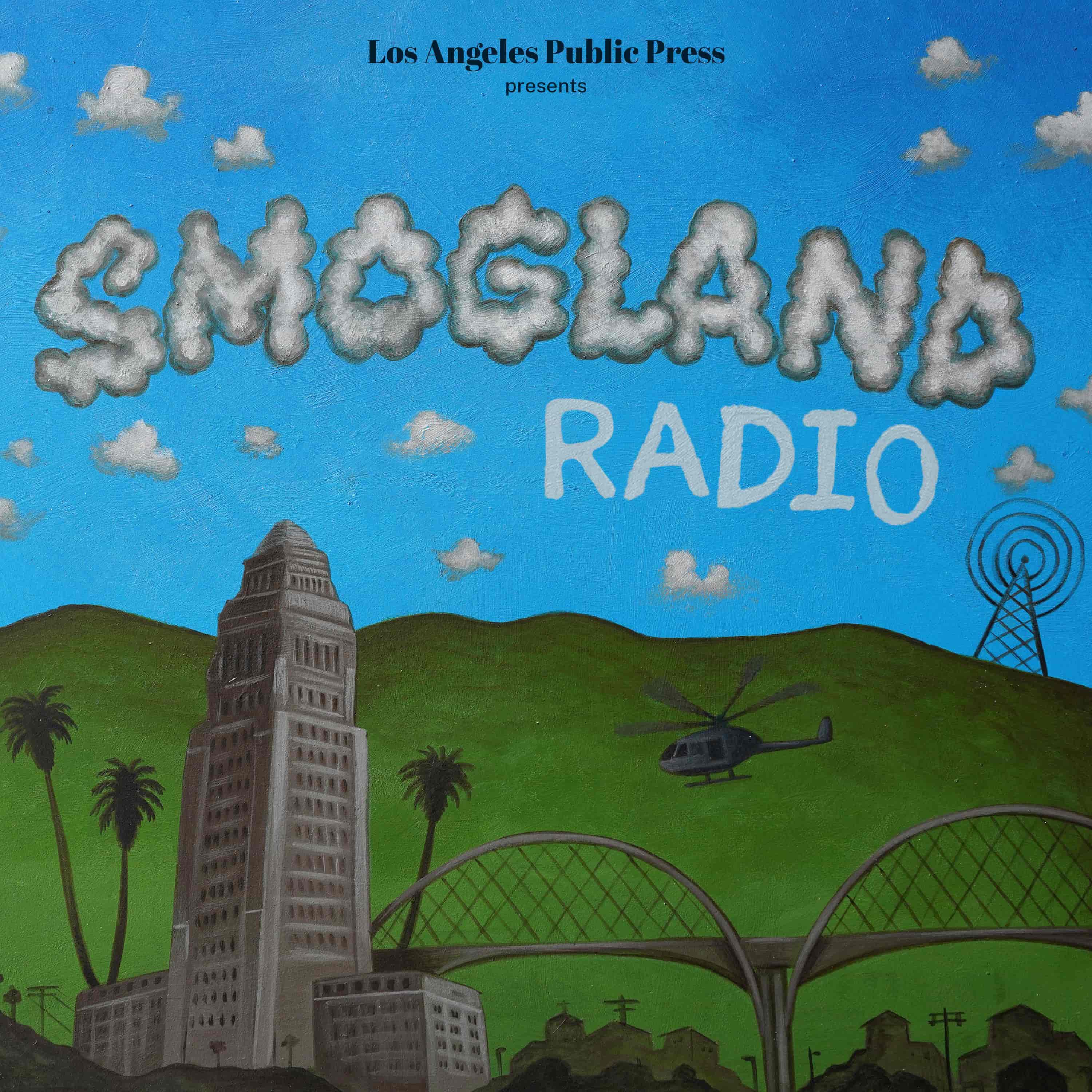 Smogland Radio
Smogland Radio is a news podcast by and for LA from Los Angeles Public Press. Twice a month, we'll have reporting that holds powerful people accountable, advice on how to thrive in Los Angeles, and in-depth stories about the issues that affect all of us. We're hard on this city, because we want it to be better. We may be one of the smoggiest counties in the country, but we don't have to be.
A battle on the streets of Huntington Park
This week, we're going to the Southeast LA city of Huntington Park, where street vendors and vendor advocates have found themselves in an unsettling battle with the city. Plus, our correspondent Ruth tells us why her relationship with Staples is… complicated.
You can find the videos Ruth references in her story here (https://x.com/FilmThePoliceLA/status/1650613941071155200?s=20) and here (https://x.com/FilmThePoliceLA/status/1650228253251231744?s=20)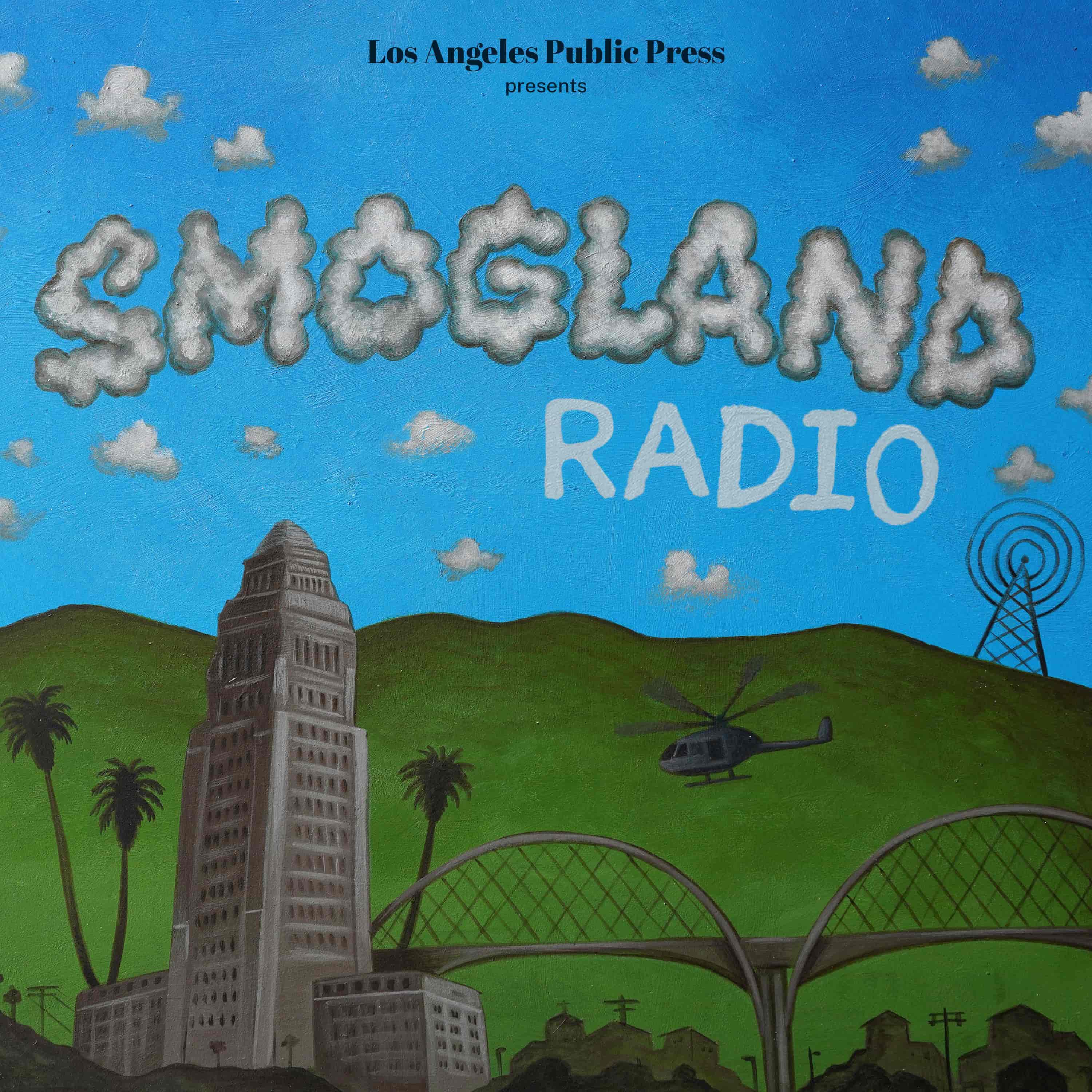 This week, we're going to the Southeast LA city of Huntington Park, where street vendors and vendor advocates have found themselves in an unsettling battle with the city. Plus, our correspondent Ruth tells us why her relationship with Staples is… complicated.
Transcript
You're listening to Smogland Radio, broadcasting from the stationery stores, fruit stands, and long-ass city council meetings of Los Angeles.
I'm your host, Nancy Meza.
Welcome to a new episode of Smogland Radio, a production of LA Public Press. Each episode, we're gonna be going on a little journey across LA together.
Remember that this is your news podcast about the city we all hate to love and loooooove to hate.
But first… Smogland Radio is made possible by our donors and supporters. If you haven't done so yet, you can become a supporter at lapublicpress.org/donate.
This week, we're dedicating most of the show to one story. It's about a specific group of people in one South East LA City.
Street vendors and their advocates… in Huntington Park.
In case you don't know, Huntington Park police AND their city council are notorious.
I'll give you an example. There was this law that had passed in 2017, while Trump was in office, basically saying that local police couldn't act like ICE agents. Or help with immigration enforcement.
It was our attempt as a State to protect as many of our immigrant neighbors as possible.
But the Huntington Park police department didn't give a fuck!
In January of 2020, I was working at an immigrant rights organization, and we found out that the ACLU was suing the Huntington Park police, because they just kept transferring people in their custody over to ICE. In total 29 individuals were unjustly transferred
So when news broke about Huntington Park going after its street vendors… people were ready to get fired up.
And reporter Marina Peña headed down to Huntington Park to figure out what the police and city council were up to this time.
Here's Marina.
Claudio: What's up bro, what are you doing? Same shit, recording these foos.
Activist: Quitándole la comida a la raza mira.
Xiomara Rodriguez: It's not right what they are doing because I got my permit. I got everything. I started with this business.
Marina: It's the middle of the day on July 8th. About half a dozen Huntington Park policemen are surrounding Xiomara Rodriguez. She's a street vendor who sells fruit.
Xiomara has her cart set up on a sidewalk right in front of a strip mall. There's a Winchell's Donuts… and a kids' dentist office.
Xiomara's cart is full of mangoes and watermelons. It has a letter A health inspection grade.
Police are writing up a citation for Xiomara. They're claiming that she doesn't have the permits she needs to work in Huntington Park. But she's telling police that she does have her permits.
There are two advocates there. One of them is Claudio. He's filming what's happening.
Claudio: Okay limpian alla… Florence and Pacific
Xiomara (background): I didn't know… I didn't know.
Cop: Yeah, yeah.
Marina: As police write up the citation, they also confiscate Xiomara's cart where she stores all of her fruits and supplies.
Start up costs for street vendors range anywhere between nine and eleven thousand dollars… so you can imagine that for Xiomara there's a lot riding on that cart.
Not to mention that it's the only way she has to make a living right now.
And plus, to her what's happening just doesn't make sense because she does have permits to operate in LA County.
Here's Claudio again.
Claudio: Come on why are you fucking with the vendors? Don't you have better things to do? That's scandalous bro, come on.
Marina: Meanwhile, one police officer starts putting up yellow caution tape around where Xiomara had her cart set up.
Claudio: Shame on you guys… shame…
Marina: One woman walking by sees what's happening to Xiomara… how police are surrounding her… The woman says that they're treating Xiomara like a criminal.
The tension between advocates, Xiomara and the police continues to escalate.
You can hear the anger and frustration in Claudio's voice.
Claudio: Ask him where his stripes… where your stripes bro?
Marina: LA is known for its street vendors. But in Huntington Park in recent months, street vendors like Xiomara keep finding themselves in a kind of nightmare. They follow all the bureaucratic steps they're supposed to follow to vend legally.
And then they still get harassed and cited by police. They don't know why. And when they ask, people in power point fingers at each other.
Huntington Park police and city officials point to the LA county public health department.
But when we asked the county about what happened to Xiomara in this video, they said they weren't involved. They said QUOTE Public Health does not confiscate equipment from unpermitted vendors. And QUOTE The video you shared is not of Public Health inspectors and that enforcement was not related to Public Health activities.
Here's Claudio again.
Claudio: Aren't you a public servant, talking like that to a civilian? Wow bro… Didn't you take a fucking oath?
Marina: In another video Claudio films, you hear Xiomara explaining in Spanish what just happened to her. Xiomara says that she's already paid for the permits for her cart for the entire year. She doesn't understand why the police keep coming after her.
Xiomara: Di mi nombre y todo porque yo no soy una persona que va a ocultarse, porque yo estoy haciendo las cosas bien. Si voy a presentarme ante un juez, le voy a decir, aquí está mi ID. Claro, aquí está mi ID. Pero sabes qué, yo estoy pagando permisos para estar en la banqueta. Y no es justo como vinieron y se llevaron todas mis cosas.
Marina: You can sense there's a battle brewing between street vendors and the city.
The video we just heard went viral, but it's just one example of a street vendor getting harassed in Huntington Park in recent months.
That same week, other street vendors also had their supplies confiscated and received citations.
So advocates called on them and the Huntington Park community to show up to a city council meeting on July 18th.
Here's Xiomara speaking during the public comment portion of the meeting.
Xiomara: Sentí muy injusto la forma que la policía de Huntington Park llega… primero ante todo llegaron pidiéndome mis permisos.
Marina: She's getting more and more frustrated as she speaks. She's almost on the verge of tears.
Xiomara: A una persona que trata de sacar a sus niños y está haciendo las cosas derecho, ustedes no puede venir y confiscar sus cosas y tirarlos como si fuera basura.
Marina: She tells the city council members that she's a single mom and widow who is working and fighting to get her children ahead. She asks if they think it's fair that she's getting targeted just for trying to do her job.
It's tense in the city council chambers as Xiomara speaks. There's at least a dozen policemen in the room. Almost all the advocates have their phones out — they're filming Xiomara speaking, but also filming the police standing guard. It feels like they're waiting for something bad to happen.
As Xiomara speaks, two city council members — Vice Mayor Karina Macias and Council Member Graciela Ortiz — take notes.
Neither of them responded to our request for comment.
Xiomara: No saben cuánto a mí me cuesta para ganar cada día mi mercancía, haciendo sacrificios porque yo tengo niños que alimentar y he pagado por todo un año y ahora he tenido que andar por todas partes porque me dijeron que si te vuelves a poner ahí, te vamos a quitar el carro definitivamente. ¿Y yo tengo que andar escondiéndome?
Marina: Xiomara says that the cops told her that they'll take her cart indefinitely if they find her outside the strip mall again. She asks why she should have to hide.
But, by the way… in the meeting… No one is translating what Xiomara is saying. It's just her at the podium alone. Speaking to all five city council members and staff.
Xiomara: ¿Qué opinan de todo esto ustedes? ¿Es justo lo que me han hecho? Pienso de que tomen cartas en el asunto y vean por qué hay muchas personas trabajamos, pero que muchos lo hacemos de manera legal.
City official: Gracias señora Rodríguez por su comentario.
Marina: Xiomara gets interrupted because her time to comment is up.
But before she is, she finishes telling the story of the harassment she endured. She asks the city council again whether they think it's just. No one answers her question.
Another street vendor goes up to the podium with a very similar story to Xiomara's. And then advocates also start going up to speak.
Edin: Huntington Park is in the 40th Congressional district, which is one of the most Mexican and Central American areas. And yet the park has joined Santa Barbara and Orange to violate Senate Bill 972 by confiscating street vendor equipment.
Marina: That's Edin Enamorado.
Edin created the Union of Vendors Association to support street vendors.
He's an expert on the laws governing street vending and he's accusing the Huntington Park city council of transgressing them.
Edin: You are violating the law but what is Huntington Park doing, shutting down street vendors and illegally violating the senate bill 972. You just confiscated a fruit cart. Marilyn, talking, so I would appreciate how you pay attention. Marilyn. You're sending a police department to harass street vendors on day in and day out. And stop the confiscating because you will get sued along with Orange and Santa Barbara. You want that? Do you want to get sued?
City official: Thank you for your comment, Mr. Enamorado.
Marina: Shortly after Edin finishes speaking, he takes a seat. And then he gets up to go to the restroom. But instead of heading there alone, police follow him.
Edin: I thought they were just going to, you know, escort me out the chambers. They didn't do that.
Marina: He tells the cops that he's just going to the restroom, but they don't believe him. They wrongfully assume he's going to disturb the meeting. They don't let him go to the restroom. They escort him out.
At that point, Edin already had a warning for supposedly interrupting the meeting earlier on.
Police later arrest Edin along with another advocate. Edin spends several hours at a holding cell at Huntington Park's police station.
Edin: They took me to a cell and they they took off my pants. They took out my socks. They threw me down the floor. They they almost broke my fingers. They were telling me things like, Shut the fuck up, you fucking little bitch, and think like all these things because they knew no one was recording.
Marina: I reached out to Huntington Park's city council and police department about this incident, but they declined to comment.
Edin: They were just telling me all these things and the way they slam me to the floor in the cell and the way they just threw me in there like I had an eight since the morning, okay? And I was there for almost 4 hours.
Marina: Edin was ultimately released around midnight that day.
He told me he's now planning to sue the city of Huntington Park for what happened. And he wasn't the only advocate who was targeted by Huntington Park police after the meeting. A couple nights later, on July 21st, Ryan Cortez — another advocate who attended the meeting — was also arrested. And had his home raided.
About half a dozen Huntington Park policemen showed up to the Cortez home in the middle of the night. They came in an armored car, with an arrest warrant for Ryan and a search warrant for his home.
This is a video of the raid that night. You can see what looks like a military-style black truck parked right outside the front door, shining a blinding white light inside the house. A booming, disembodied voice is projected out onto the street.
Here's Lance Cortez, Ryan's brother, talking about that night.
Lance: For us it was unexpected. It was at 4 in the morning. It was almost unbelievable how they treated us like we just committed a crazy act of terrorism.
Marina: Ryan ended up being charged with a misdemeanor for QUOTE disturbing the peace by offensive language at the city council meeting.
Ryan's lawyer says that they will also be filing a lawsuit against the city.
We reached out to the Huntington Park city council and police department about both incidents, but they didn't get back to us with a comment.
But why is there even a need for folks like Edin and Ryan Cortez to advocate so hard?
In 2018, California passed the Safe Sidewalk Vending Act or SB 946 to decriminalize street vending and legalize it under certain conditions.
The act was created so that police would have less of a say of where street vendors could set up and sell, especially when they're not disturbing anything happening in the area.
So why does it seem like things have only gotten worse for street vendors?
To get a better picture of what's been happening to them, I decided to visit Xiomara.
Xiomara: Hola, hola como esta? Muy bien. Bueno…
After getting her cart back, Xiomara decided to move from Florence and Mountain View avenue to another corner half a mile away in Walnut Park.
She moved because she was scared of police confiscating her supplies again.
Xiomara: Levantarme desde las 05:00 de la mañana más que nada para preparar mi fruta temprano,porque luego tengo que alimentar a mis niños… llevarlos a la escuela.
She says her daily routine starts at 5 am – that's when she starts preparing her fruit and everything she's going to sell that day.
Marina: Then she's out working for almost twelve hours every day, from about 11 am to 10 pm.
But business hasn't been the same for her on these streets.
Xiomara: Está muy despacio, la verdad. No sé en qué ha consistido pero no sé si ha sido por lo mismo que ha pasado con la policía.
Marina: See, Xiomara was at her original location in Florence and Mountain View Avenue for about a year and five months. People knew who she was. But now she's having to reintroduce herself to everyone. And people are just not buying as much.
For her, showing up to the Huntington Park City Council meeting didn't change anything.
Xiomara: Yo sentí de que ellos estaban muy orgullosos de los que estaban premiando, pero no, cuando nosotros, todos nosotros estuvimos hablando, yo sentí que somos como un 0 a la izquierda para Huntington Park. La verdad.
Marina: Earlier on in that same meeting, some brick and mortar restaurant owners got awards from the city. But when it was time for Xiomara and other street vendors to get up to speak, she felt like they weren't given the same respect.
It's a common theme in how many street vendors feel treated by the cities they operate in. Brick and mortar restaurant owners are given priority. And street vendors are often targeted, or treated like an afterthought.
Even though… again… LA is known for its street vendors.
According to the California street vendors campaign, in LA alone, about 12,500 street food vendors generate millions of dollars in revenue each year.
Of the 50,000 street vendors throughout LA County, roughly 80 percent are women, and the majority are people of color, immigrants, seniors or come from a low-income household.
But that could start to change if vendors like Xiomara continue to feel targeted.
Sergio Jimenez is an organizer at Community Power Collective. And he says what's been happening to street vendors in Huntington Park is similar to the interactions he's been seeing between vendors and police all across LA County.
Sergio: Huntington Park is just a new arena for criminalization in attempts to disenfranchise vendors… What we see is a lot of confusion
Marina: Why do you suspect police focus so heavily on this… what do you think is the root of things?
Sergio: I mean, at the end of the day, it's racism. That's what I feel. Vending has been around for more than a hundred years. enforcement is generally targeting vendors because they're just an easy target.
Marina: Part of the problem is also the city ordinances that street vendors have to be in compliance with depending on where they operate.
In 2018, Huntington Park created its own sidewalk vending ordinance after the state street vending act was passed in California.
And it's more restrictive than the state law.
The city ordinance has its own permit process and requires things like liability insurance.
There's also lots of restrictions, like how many vendors can be on a certain sidewalk.
Estefania Lopez Perez is a policy associate at Inclusive Action for the City — a nonprofit that started the LA Street Vendor campaign to help support vendors across the county.
She says that another part of the problem with a lot of the city ordinances is that neither the city or police are informing vendors about how they can meet certain requirements.
Estefania: it's really challenging when somebody is just coming at you and telling you that you're doing something wrong, citing you for it without giving you a little bit more education about how you can remedy the situation.
Marina: Estefania says that there's a couple different reasons why cities like Huntington Park are using the ordinances to harass street vendors.
One of them has to do with all of the complaints they may be receiving from local brick and mortar business owners in the area.
Estefania: So what we've learned is that when law enforcement officials and investigators go out and target street vendors, a lot of the time it's complaint driven. Sometimes businesses, especially when they have a lot of power and influence, don't want street vendors in their vicinity. Then they'll keep making complaints. So we've actually heard from certain elected officials that are sympathetic to street vendor challenges that even though they understand because of the system being complaint driven, they have to listen to the complaints coming in.
Marina: Estefania says that street vendors are also not respected like their brick and mortar counterparts.
Estefania: Because she vendors are in the informal sector, a lot of times they're not viewed as quote unquote, legitimate businesses. So all of these things kind of perpetuate this sort of dangerous environment for street vendors to operate in. So one of the solutions that we advocate for is for city officials, elected officials, to recognize street vendors as the legitimate businesses that they are.
Marina: So what does this all mean for street vendors? How can they fight off complaints and be regarded as legitimate business owners?
If you ask Estefania, there is hope that certain conditions will get better for street vendors.
Estefania: we do have champions at the city and county level that understand the experiences of vendors. Maybe they come from families of immigrant workers or even vendors themselves.
But there's a lot of also bureaucratic barriers when it comes to changing policies for the better.
Marina: For right now, Xiomara's not gonna stop going to Huntington Park city council meetings. Because she thinks it's important to have voices like hers included.
But it was still a wake up call for her that the city does not respect street vendors and recognize all they bring to the table.
Xiomara: Porque de eso se trata, de que las veces que sea necesario levantar nuestra voz y hacernos ver, hacernos contar, porque en realidad estamos contribuyendo al país.
Marina: Xiomara hopes that by continuing to speak out at these city council meetings, local leadership and police will take into account that street vendors like her are contributing to the country, that they are paying taxes and that they're not doing anything illegal.
Still, she doesn't have Estefania's optimism about things getting better for vendors.
Xiomara: Dependiendo si esto no, no funciona. Creo que tendré que buscar un trabajo. Tendré que irme a trabajar en un hotel o en lo que yo pueda, porque no me está funcionando, aunque lo hago con la intención de tener más tiempo para mis niños. Pero si no funciona, si yo veo que definitivamente la policía sigue molestando y aunque yo tenga mi permiso, quizás lo deje.
Marina: Xiomara loves being a fruitera. It means she can spend more time with her children.
But if things don't work out, she says she's going to have to find a job… at a hotel or somewhere else. She's constantly weighing the pros and cons of being a street vendor.
She's not alone. And with all the harassment, doing that work can start to feel like more trouble than it's worth. If police and cities keep going after street vendors the way they went after Xiomara, the streets of Los Angeles could start to look pretty different.
For Smogland Radio, I'm Marina Peña.
Nancy: That was Marina Peña, reporting on street vendors in Huntington Park. Amanda Del Cid Lugo contributed reporting, and wrote an online version of this story.
It's got more details for all you nerds out there about the ordinances targeting street vendors in Huntington Park and other SELA cities. You can find that article on our website, lapublicpress.org.
We'll be riiight back.
Last up on the show today, we're at Staples… that's right… the office supply store.
Our correspondent Ruth and I share a love for stationery, ya know slick ball point pens, tiny notebooks, envelopes and generally cute things to write with.
But Ruth has a complicated relationship with Staples. She kind of loves it… and also feels like the store is actively hostile to her, as an unhoused person.
Here's Ruth.
Ruth: Very recently, one of the Staples stores in Hollywood was, on social media, like, in a video. I think it was posted by Film the Police LA. Love that account. It was playing on a little speaker on the outside of the store, mounted, this high frequency, really offensive tone. It's kind of made to be, like, nails on a chalkboard.
Yeah, it was basically to deter anyone loitering outside of this Staples location.
We recently needed a replacement charger for our Jackery because a gopher ate ours. I guess they do electronics recycling at Staples and my significant other saw a Acer laptop charger in their electronics recycling bin, and it was the same voltage and the same size as the Jackery charger.
Perfect. But they didn't want to, like, make any deals on it or help us get it. They were just kind of like, no, this isn't for you. And that really made my significant other mad. He asked a few more people, and eventually the district manager was like, yeah, okay, but don't tell anyone.
It makes me really confused. Like why would they be ashamed of doing a good thing for somebody? Why would they be like — don't tell anyone that I helped you? But they're okay with their reputation being that like they're mean to people. You know, they, the buzz on Twitter about them is about how they play this sound so that homeless people or loiterers or whatever, um, can't be there without feeling this unpleasant nails on a chalkboard feeling.
Which, by the way, like, that's kind of one of those problems that if you can ignore it, like, it won't deter you. I have horrible hearing. I can sleep through an alarm clock for hours. Like, I probably wouldn't even notice the sound. Maybe it would give me an uneasy feeling that I couldn't put my finger on.
But homeless people are like, I think they're disproportionately hearing impaired, but I'm not sure about that. We tend to live near highways and stuff, and that gives us, like, tinnitus.
But yeah, so, I don't know, why is it cool to be mean to homeless people and uncool to be nice and helpful? That is my issue with Staples right now,
Not that they care. I love office supplies, honestly. I really like good pens. So I really want to be cool with Staples. I would like for us to have a truce one day But I don't think that's very likely right now.
Nancy: That story was from Ruth. She's part of our correspondents program, where we commission recordings from people in communities who often don't see their experience reflected in the media.
If you'd like to be part of our correspondents' program, email us at [email protected].
By the way, we didn't use the actual sound that was playing outside Staples in this segment. We found a slightly less unpleasant substitute, because the real one really sucks to listen to, and we didn't wanna lose you guys.
If you want to hear the actual sound in the videos Film the Police recorded, we've linked them in the show description.
Smogland Radio is produced by Phoenix Tso and Carla Green. I'm your host, Nancy Meza. We're a production of LA Public Press, a non-profit newsroom for Los Angeles.
Eduardo Arenas made our music, and Jaime Zacarias made our show art. Special thanks to the Robinson Space where we record this podcast!
Additional music by Epidemic Sound.
Also – we're a newsroom funded entirely by donations!
If you like the work that we do, you can support us by becoming a member at lapublicpress.org slash donate.
You can also support us by leaving us a review on Apple Podcasts, or following us on social media. We're on all platforms at LA Public Press.
Thank you so much for listening.
We'll see you right back here in a couple weeks for our next episode.